Actor Shia LaBeouf continues strange behavior by wearing a paper bag over his head at a press event promoting his new movie, Lars von Trier's Nymphomaniac: Volume 1 .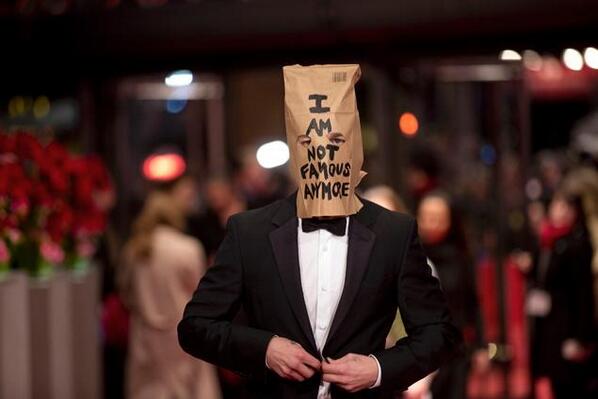 LaBeouf wore a different kind of couture to the Berlin Film Festival yesterday by pairing his tuxedo with a brown paper bag pulled over his head, bearing eye-cutouts and the words "I Am Not Famous Anymore", reports Rolling Stone . The outfit comes after a long string of bizarre behaviors from the actor in recent months, including plagiarizing, which he later claimed was performance art.
The Hollywood Reporter reported that Shia stormed out of a press conference on Sunday while answering questions about Nymphomaniac: Volume 1 which also stars Uma Thurman and Christian Slater. The film is the first in a two-part series about a woman's sexual journey throughout her life, and naturally features plenty of sex scenes. When asked about his experience filming the sex scenes, LaBeouf gave a strange reply by saying, "When the seagulls follow the trawler, it's because they think sardines will be thrown into the sea. Thank you very much."
The Hollywood Reporter also notes that Labeouf is now missing his lower front tooth.
Is this more performance art by Shia LaBeouf, or is he heading for a breakdown? You be the judge.
Photo: Twitter
Photo: Wikimedia Commons