The glamorous, gifted and gracious four-time Grammy Award winner Kelly Rowland has a lot on her plate.  Not only is she finishing up a bold new album, tweaking an upcoming book, about to launch a new makeup line with celebrity makeup artist Sheika Daley and is engaged in many philanthropic endeavors, but also she is preparing to cook and entertain for the holidays with a curious toddler in tow.  Bless her heart!
Rowland, 35, who married Tim Witherspoon on May 9, 2014, is a busy working mom of their adorable 2-year-old son, Titan Jewell Witherspoon, and while she loves the holidays they do not give her much down time.
One of the programs near and dear to her heart is Ben's Beginners. This is a national cooking contest for kids k-8 where they award the each of the winners' schools a $30,000 cafeteria makeover. Uncle Ben's launched this program in 2012 to get families cooking, explore new recipes and find new ways to spend time together as a family. Uncle Ben's believes that children's futures are brighter when they spend time in the kitchen with their families.
Rowland spoke with TheCelebrityCafe.com about her current plans, her personal family traditions, how she encourages her son to be helpful in the kitchen and what she does to teach him to be empathetic and care about others as well as her work with Ben's Beginners. She also discussed what her mother-in-law does to contribute to the happiness of the family and what she hopes everyone will do with their families in the kitchen during this holiday season.
TheCelebrityCafe.com: Where are you living these days?
Kelly Rowland: I am actually on the West Coast in Los Angeles these days. West Hollywood.
TCC: And where are you from?
KR: Born in Atlanta, Georgia. Raised in Texas.
TCC: What have you been up to lately?
KR: I have been recording, putting finishing touches on a record, my album. I've been putting finishing touches on a book, developing a makeup line with my friend and makeup artist Sheika Daley, doing collaborations with different cool companies, and yeah. A little bit of everything, to be honest.

TCC: You sound very busy and you're also a newlywed. Congratulations.
KR:  Thank you very much.
TCC: You got married in 2014?
KR: Yes, I did.
TCC: And you have a little boy?
KR: Yes. I have a little boy by the name of Titan Jewell Witherspoon.
TCC: How old is he?
KR: He's two.
TCC:  So, what are some holiday traditions from your family?
KR:  Holiday traditions in my family are really it's all about the kids. We stopped buying presents for adults a while ago and we really just gather around, we bake cookies and make treats for the kids and gingerbread houses and sing and go to The Nutcracker. We eat a lot and we talk. We have a good time together.
TCC:  Was it hard to merge your husband's traditions with your own?
KR:  Not at all. We pretty much see eye-to-eye when it comes to traditions and including wanting to start our own.
TCC: What are some new traditions that you just started with your little boy?
KR:  We are still thinking of some because we actually love the ones that have carried on for generations and generations. So, yeah, I'm thinking of this one thing where there's a certain number of toys that we give him, but he has to give from whatever number of toys he gets, he has to give as well, from his own toys.
TCC: How did you first get into cooking?
KR: I got into cooking just by watching my mom and my aunts and my great-aunts and actually one of my cousins who has her own catering business in Atlanta, Georgia.  So everybody around me really cooked and it was just all these different styles and backgrounds and cuisines of cooking that I found so interesting.
TCC: What are some of your favorite holiday recipes?
KR:  My husband's mother's dressing, like her cornbread dressing, is one of the greatest things I've ever tasted. And I beg every year-- if she's even thinking about not making it, I'm like, "Look, I'll do whatever you tell me to do. I'll stay out of the kitchen. I'll do whatever you tell me to do just make this dish." So, yeah.
TCC:  What makes it so special? Very cornbread-y and yummy?
KR: It has so much flavor in it. It's a slow cook. Everything is all about timing. The way she does it, it's just one of the most heavenly things I've ever had in my life.
TCC:  Can you please explain what Ben's Beginners are?
KR: We have this new generation of kids that have so many answers at the click or touch of their hand and Ben's Beginners is a program that allows kids and parents to get back in the kitchen and cook and bond and develop these new recipes and allow kids to be creative. That's what really drove me to actually partner up with them because when they told me this idea, I was like, 'There's not enough of this to this day, like right now.' Because kids are so busy with different things and are occupied with other things, so when they do find themselves to be creative, it's often that they can be creative in the kitchen and they get the opportunity to bond with family, friends and talk. It just opens up their lines of communication. We need that now for these young people. Ben's Beginners is definitely about getting families in the kitchen again because that culture is somewhat lost.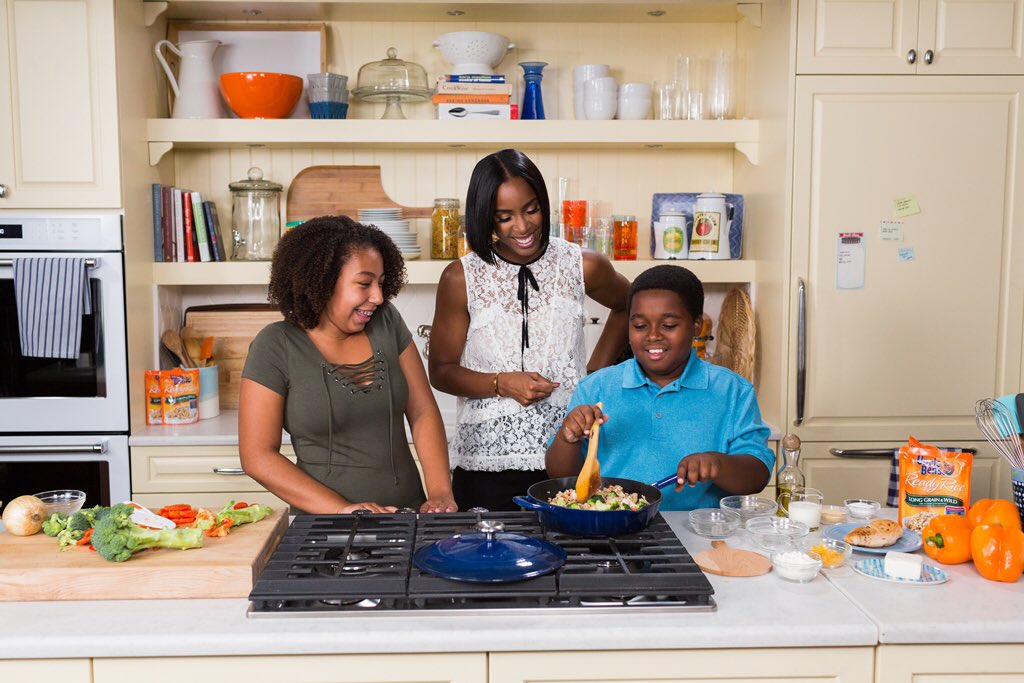 TCC:  What are some tips you may have for working with very young children like your son? How do you get them involved in the kitchen?
KR:  Oh, my goodness with Titan he loves to taste so I let him taste different things in the kitchen. We actually start with mixing with him, which is a mess, but it's fine because then he still feels like he's a part of it. He mixes or pours stuff inside whatever it is that I'm doing or making or whatever. So I try to keep him involved when I do have time to cook.
TCC:  And it's never too young to start teaching someone how to clean up after themselves too.
KR:  Oh, absolutely. We sing the 'Clean Up' song anytime there's a mess.
TCC:  What is the 'Clean Up' song?
KR:  It's 'Clean up. Clean up, everybody, everywhere. Clean up. Clean up, everybody do your share.' (Author's note: Kelly sang this song so sweetly, that she may have a new hit.)
TCC:  What about shopping with Titan? Parents often say the best way to go shopping successfully is to leave the kids at home.
KR: With shopping sometimes I take Titan, but I take him to stores where he can be able to do his thing. So where he's not going to make a huge mess or I just ask him if he likes something. But it's usually easier when he's in his stroller [laughs].
TCC:  And not grabbing everything off the shelves.
KR:  Basically, yes.
TCC: What are some skills that you think older children should learn how to do in the kitchen?
KR:  I think that when it comes to measuring or just even being creative to make their own recipes and allowing them the space to create something new is really important. And I think the measuring and all of that is really great for them when it comes to mathematics and just enlightening their minds that way.
TCC: Do you host a lot of holiday parties or do you try and keep it mostly just to family?
KR:  I try to keep it mostly to family.
TCC:  Do you have a favorite holiday tune?
KR:  My favorite Christmas song would probably have to be that 'Have Yourself a Merry Little Christmas.'
TCC:  What kind of charity work do you do?
KR:  I'm involved with the Boys and Girls Clubs of America. I am one of the angels on the more with Baby2Baby. And today I was truly enlightened by a new Big Sisters/Big Brothers program that I found just absolutely amazing. But, for right now, I'm definitely involved with the Boys & Girls Clubs of America and also Baby2Baby.
TCC:  What will you be working on next after the holidays are done?
KR:  When it comes to the album. When it comes to the book. When it comes to the makeup line. All these different things, they're definitely keeping me busy.
TCC:  I'm just guessing that you don't have much free time. So, the holidays are probably a nice little break for you in some ways but busy in others?
KR:  Yes.
TCC:  How do you like to interact with your fans?
KR:  Of course, through social media. Being able to see them when I tour.
TCC:  You have a Twitter and Instagram account?
KR:  Absolutely.
TCC:  And they can find you at?
KR:  @KellyRowland.
You can find out more about Rowland on her website and learn more about the Uncle Ben's Beginners program here.