#Maroon5xBTS
The Maroon 5 official Twitter account comments have BTS fans going crazy over the thought of a collaboration.
Maroon 5 was all over Twitter with some great Snapchat filter pics promoting their new single "Wait" when a perfectly innocent request was posted.
"Please make a colab[SIC] with BTS," the post from Cel @ambitionsjin reads. Maroon 5 replied with a smiley face.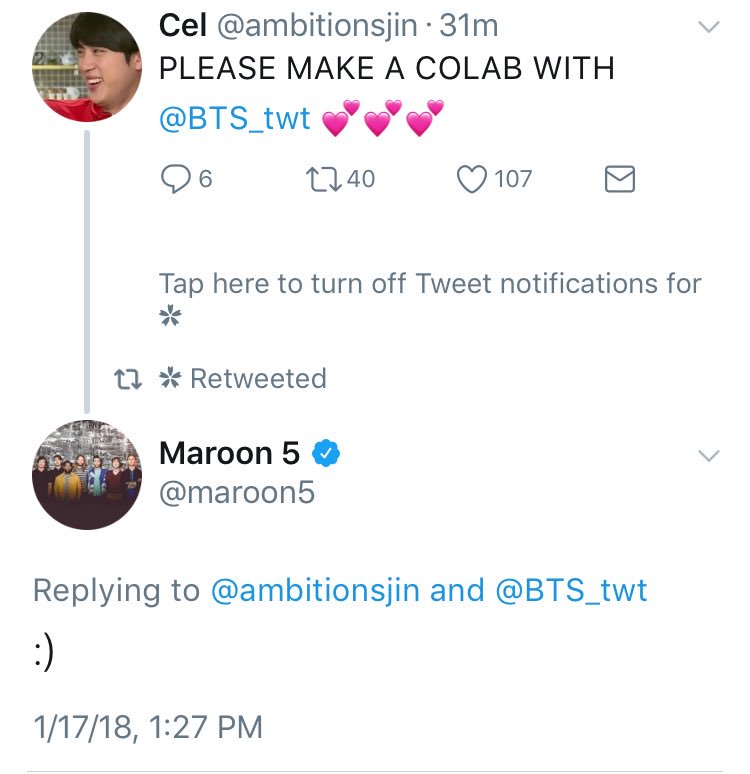 And then Twitterverse went insane.
The big question was is this for real? To which Maroon 5's cryptic answer was, "not sure you can handle it."
We're actually surprised the Earth didn't tip from its axis as fans everywhere jumped out of their seats with excitement.
But then, as the joy threatened to break the internet, Maroon 5 deleted the tweets! Dudes, totally not cool.
It's the internet, however, where hope still reigns and conspiracy theories thrive. We may just get Maroon5xBTS. Anything's possible on Twitter.
Of course Maroon 5 deleted their tweets about Bangtan... 👀
Why do these artists *cough*gallant*cough* mention a BTS collab and then delete their tweets?! 🙃@BTS_twt for#BTS #iHeartAwards #BestBoyband

— Rachel💜:). (@DarlingSpectrum) January 18, 2018